Workforce Training
There are many opportunities for workforce development within Laurens County and the upstate region of South Carolina.
Laurens County is home to the Center for Advanced Manufacturing, located along the I-385 corridor and within easy driving distance of industrial and business sites. There are many professional development and non-credit courses are offered to the public and business community by PTC's Continuing Education and Economic Development Division.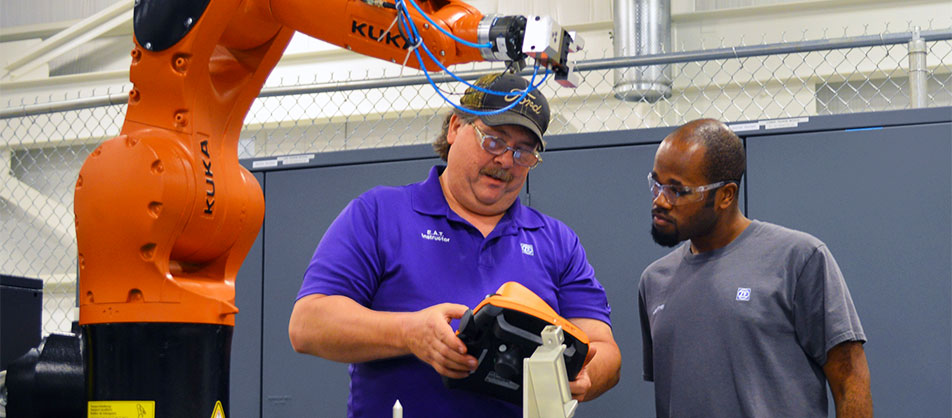 We are also located close to Clemson University and its International Center for Automotive Research (CUICAR).
Apprenticeship Carolina™ works to ensure all employers in South Carolina have access to the information and technical assistance they need to create demand-driven registered apprenticeship programs.
ReadySC™ is one of the nation's premier economic development training programs. Since 1961, this program has helped thousands of companies start up quickly and efficiently by providing custom-designed workforce recruiting and training solutions.
Laurens County is a South Carolina Work Ready Community, which is a measure of the quality of a county's workforce. It is an assurance to business and industry that the community is committed to providing the highly skilled workforce required in today's competitive economy.
Finally, both the Laurens County School Districts, 55 and 56, offer a dual credit program with Piedmont Technical College, which allows students to take courses at PTC while still in high school to help prepare them for the future, whether it be pursuing higher education or going directly into the manufacturing environment.
Upstate South Carolina Resources
ADD ITEM TO REPORT
As you navigate our website, you can use the "Add Page to Report" button to add any page or property to a custom report that you can print out or save.