From Dual Enrollers to High Rollers?
06/26/2018
ZF Apprenticeship Delivers High-Paying Jobs for Those with the Right Stuff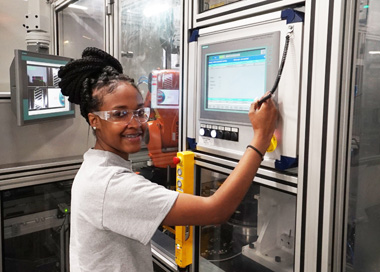 Just three years out of high school, Piedmont Tech graduate Travisia Thompson (at right) may be earning upwards of $60,000 a year.
Let that sink in for a moment.
A proactive maintenance apprentice program among partners Piedmont Technical College (PTC), Laurens County Development Corporation (LCDC), Laurens County School Districts 55 and 56, and ZF Transmissions in Gray Court is making this seemingly pie-in-the-sky opportunity available to qualified Laurens County high school students.
That's right. HIGH SCHOOL.
This virtually unheard-of earning potential is quite literally possible.
Accordingly, Thompson started her education at PTC as a dual enrollment student while still in high school and graduated in December 2017 with a degree in mechatronics technology. She is currently working to complete the maintenance apprenticeship program she began at ZF, where she has made quite an impression.
"Travisia is just fantastic. I wish I had 10 more just like her. For whatever reason, this is a male-dominated field. She is the only female I have in the program," said Robbie Ellis, apprenticeship supervisor at ZF. "Travisia steps up and volunteers for things. She is definitely a leader. She is very intelligent and doesn't mind taking charge."
ZF's 1.5 million-square-foot advanced manufacturing facility produces 8- and 9-speed automatic transmissions for passenger cars. In a partnership with PTC and two public school districts in Laurens County, ZF launched the apprenticeship program modeled after successful ZF apprenticeships in Germany.
The three-year program is not for commitment-phobes. Apprentices are required to complete 4,000 hours of on-the-job training in addition to their coursework. High school students in the program take their technical classes at the PTC Center for Advanced Manufacturing (CAM) in Laurens, train part-time at the plant, and finish other coursework at their high school. After successfully completing the program, students receive an associate degree from Piedmont Tech and have an opportunity for full-time employment as a maintenance technician.
"They have great opportunities here, and you always have the opportunity to excel and level up," Thompson said. "I have built a foundation here at ZF Transmissions. I look forward to staying on here."
In addition to supervising ZF apprentices, Ellis visits high schools in Laurens County to recruit the next class of apprentices. "I encourage underclassmen to look into dual enrollment at PTC in machine tool technology or mechatronics to give them a leg up on the application process," he said.
"Here in Laurens County, ZF is a main player," said Chris Lipp, director of the CAM. "They have recruited heavily in the high schools. Students come here to the CAM for mechatronics instruction. … Students who are interested in a ZF apprenticeship and are already with us apply both to PTC and to ZF. Then they continue to be a full-time student with us and work 20 hours a week at the plant."
Lipp says there are 12 students currently in the program. An additional nine students have been offered positions in the program next fall. "Seven of those nine already were in our dual enrollment program," he added.
ZF sets a high bar for accepting apprentices. "There is a narrow band of students that I am looking for," Ellis said. "They must have at least a 2.5 GPA, a 75 or above in Algebra I and a Silver or higher on the Work Keys Assessment. We look for kids who like to work with their hands and aren't afraid to get dirty when the job calls for it. And they should get along with others."
"It's still really early, but the program seems to be progressing very well," said Lynn Finley, assistant director of LCDC. "And they say the quality of the candidates continues to get stronger."
"It's hard work, and it's a factory, but it's not as it seems," Thompson said. "ZF is actually a clean environment. It's a great environment. … I get the same respect as guys. Just because I am a lady, they don't treat me any different. I want to be treated just like everybody else."
Ellis says that Thompson, in the midst of her apprenticeship, has been tapped to head up an important project that involves building mobile units to train assembly workers.
"We have never given a project this size to an apprentice before, and she is doing well," he said.
In addition to visiting high schools, Ellis works to raise awareness in the community about opportunities at ZF, including a parent's night.
"We offer tours of the plant and remind parents that we are going to pay 100 percent of their child's college," Ellis explained. "We point out that, when students complete the program, they will start full-time at $60,000 a year just three years out of high school. A lot of times that message resonates with parents."
The promise of a good job in a rapidly changing economy is nearly as important as the enviable compensation. "I haven't heard of a single student who made it through the program who didn't get a job," Lipp noted. "And with no student debt. That is appealing. … I hear a lot of good feedback from both the ZF side and the apprentice side. ZF has been proactive interfacing with the community and other companies. They were one of the driving factors in an Education Business Partnership that meets quarterly to discuss how Piedmont Tech and school districts can work together to create and promote apprenticeships."
Ellis said that ZF's apprenticeship program continues to develop and grow. Gray Court-based ZF officials will visit their sister plant and world headquarters in Germany this summer to evaluate their apprenticeship program there.
"The Germans have pretty much perfected the apprenticeship," he said. "And we will continue to improve our program."
Apprenticeship programs across South Carolina are proliferating rapidly as local employers realize their potential and return on investment.
"Finding qualified maintenance people to work in these facilities is an ongoing struggle for HR departments," Lipp said. "So they are reaching out to high school career centers."
"We do promote the apprenticeship model to other companies in the area," the LCDC's Finley said. "We have some that are interested but so far none have embraced it as much as ZF."
"The number of companies (and industries) that Apprenticeship Carolina™ works with continues to grow," said Amanda Richardson, apprenticeship consultant with Apprenticeship Carolina. "Most companies are using registered apprenticeship programs as a way to grow their own workforce and create a critical talent pipeline to meet their current and future needs. The company and apprentice both benefit from this proven 'earn while you learn' model."
Finley said the program is where it needs to be and can be replicated by companies of all sizes, not just the large global companies like ZF.
Ultimately, an individual apprentice's experience and success say it all.
"I am able to get on-the-job training and gain knowledge before beginning my career. That's the best part. And I have people mentoring me and guiding me along the way," Thompson said. "I highly recommend it to anyone coming out of high school. I graduated college with no tuition debt. ZF took care of everything."
ADD ITEM TO REPORT
As you navigate our website, you can use the "Add Page to Report" button to add any page or property to a custom report that you can print out or save.