Global Manufacturer Picks Piedmont Tech Facility as U.S. Training Site
08/07/2018
News Release from Piedmont Technical College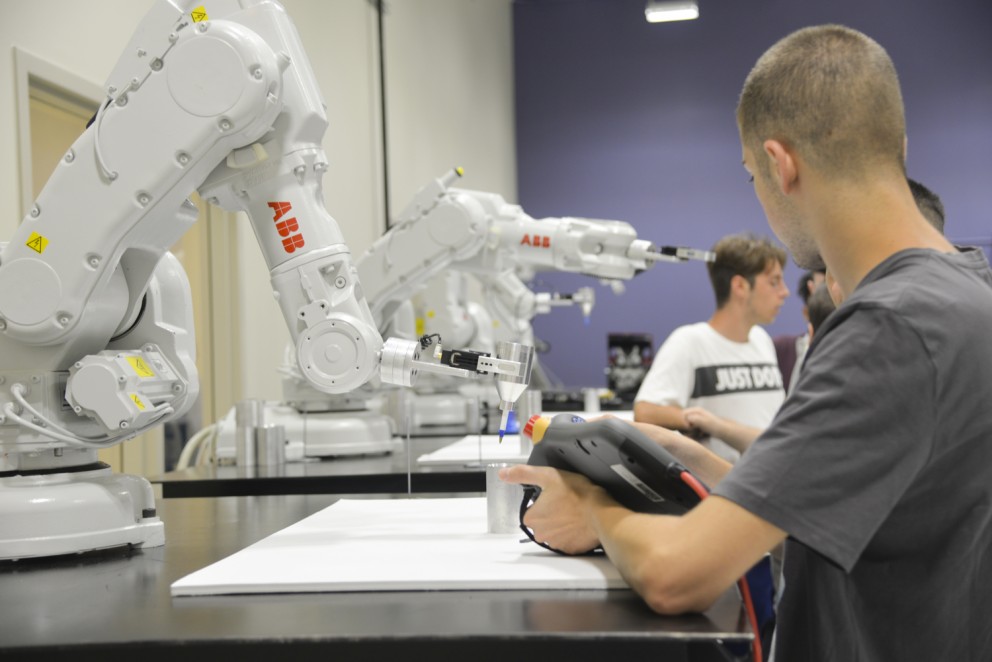 It started quietly at first. A low buzz, numerous meetings, contract development and ― finally ― the arrival of the first three IRB 140 robots to the Piedmont Technical College (PTC) Center for Advanced Manufacturing (CAM) in Laurens. This spring marked the official launch of a partnership between PTC and ABB, a leading supplier of industrial robots that serves 53 countries around the world.
Finding that some of its U.S. customers wanted more options than ABB's Michigan or Alabama facilities for robotics training, the company sought a location to offer an additional U.S. training site in South Carolina. The CAM was a perfect fit.
"It was geared more toward the local customers in the Carolinas, but anybody in the United States can sign up to attend classes at the CAM location," explained ABB Account Executive Michael Clark. "I like the facility. I think it is spectacular."
CAM officials are expecting soon to install two additional ABB robots to expand that training capacity. A new class began July 30, with trainings commencing about once a month for the immediate future. "We train industry customers at certain times throughout the year," Clark said. "So far, the feedback from our customers has been very, very positive."
It's clearly a win-win for PTC as well.
"It's an opportunity to certify our staff for free," said J.C. Crowder, a mechatronics instructor at the CAM. While training currently is being provided by ABB instructors, Crowder is in the process of becoming certified to conduct the ABB training himself, a significant cost-saving benefit for the global company, which has a plant in Belton (Anderson County) that manufactures drives. While the CAM training will focus on robotics, ABB also provides a wide array of industrial digitalization products and services for utilities, industry, transportation and infrastructure customers worldwide.
"It's exciting. We are now an official ABB training site," Crowder said. "We are teaching basic programming and electrical maintenance classes."
Clark noted that ABB is pleased with the results. "Everyone has liked it so far," he said.
ADD ITEM TO REPORT
As you navigate our website, you can use the "Add Page to Report" button to add any page or property to a custom report that you can print out or save.