Help 'Fight the Spread' in Laurens County
01/15/2021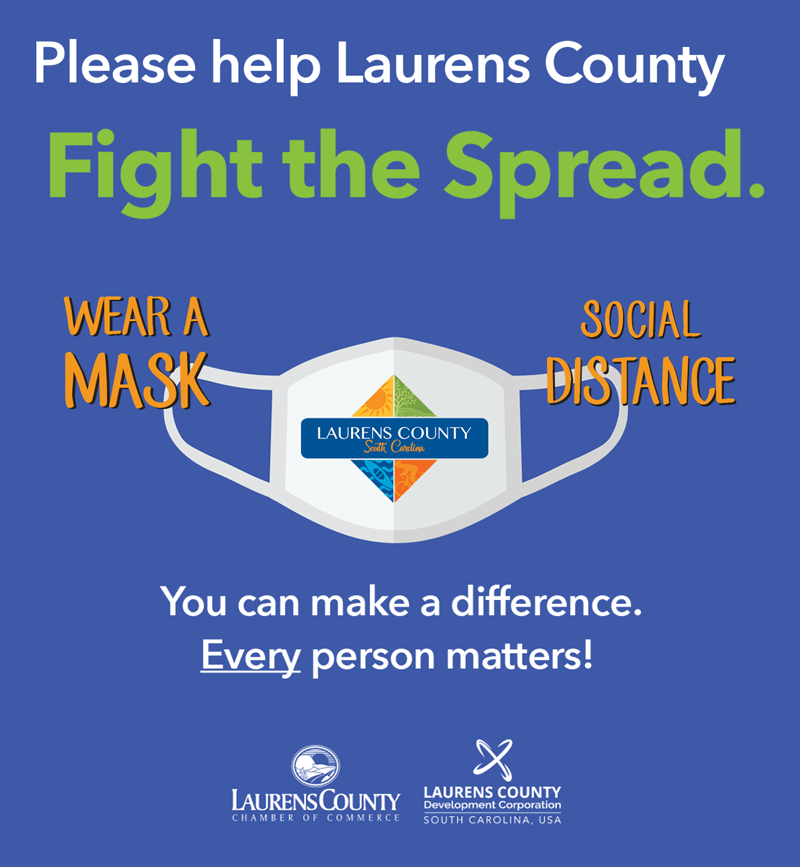 The Laurens County Development Corporation, the Laurens County Chamber of Commerce, Prisma Health Laurens County Hospital, and local leaders and municipalities are working together to encourage those who live and work in our county to take personal responsibility in the efforts to "Fight the Spread" of Covid-19.
The goal of this campaign is to remind our community to stay vigilant in efforts to fight the spread of the virus: wash hands, wear masks, stay socially distanced, and avoid large gatherings. The economy, jobs, our healthcare system, and lives depend on our continued efforts towards safety in response to Covid-19. As case numbers rise, our hospital system is experiencing tightening capacity. Local healthcare workers have been battling Covid for a year, working hard to help those in need.
While vaccines are being administered daily, it will still take time to realize the benefits of immunity. We still need the public to do their part in practicing precautionary measures.
Over the next several days and weeks, unified messaging encouraging this campaign will be posted across websites and social media, to include videos from several recognizable faces. The community will also be asked to get involved and share their efforts to mitigate the spread of Covid-19.
Please help Laurens County Fight the Spread. You can make a difference. Every person matters.
Visit the Laurens County Development Corporation's YouTube to see the collection of "Fight the Spread" video messages.
ADD ITEM TO REPORT
As you navigate our website, you can use the "Add Page to Report" button to add any page or property to a custom report that you can print out or save.