Laurens County Development Corporation Hires Whitney Robertson as Marketing Manager
11/22/2017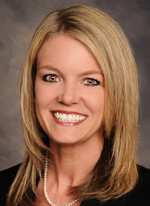 Laurens, SC – November 21, 2017 – Laurens County Development Corporation (LCDC) is pleased to announce the recent hire of Whitney Robertson, who will join the team as Marketing Manager.
"We are very excited to have Whitney join our team at the LCDC," said Jonathan Coleman, Executive Director. "She brings many years of marketing and communications experience and we look forward to working together to promote Laurens County locally and internationally. She will be a true asset to this organization."
Robertson comes to the LCDC with 18 years of experience in marketing, communications and graphic design. Most recently, Robertson worked as the Executive Director of United Way of Laurens County (UWLC). Through her work, Robertson has partnered with many local companies and industries, maintaining strong relationships in Laurens County. Before becoming the UWLC Executive Director, Robertson served at the Manager of Campaign and Events, heading up the team's marketing, public relations, graphic design, and social media efforts.
"I have thoroughly enjoyed working closely with business and community leaders here in Laurens County through my time at United Way," Robertson said. "I look forward to continuing to build on those relationships, and furthering the work of the LCDC to grow Laurens County in my new role as Marketing Manager."
Originally from Florence, SC, Robertson earned a bachelor's of art degree from Francis Marion University.
Robertson will begin her new role on December 18, 2017.
For more information, please contact Jonathan Coleman at 864-939-0580 or email at jcoleman@GrowLaurensCounty.com.
ADD ITEM TO REPORT
As you navigate our website, you can use the "Add Page to Report" button to add any page or property to a custom report that you can print out or save.