Laurens Teachers Learn from Summer Manufacturing Jobs
08/01/2017
ZF Transmissions program raises awareness for manufacturing, apprenticeships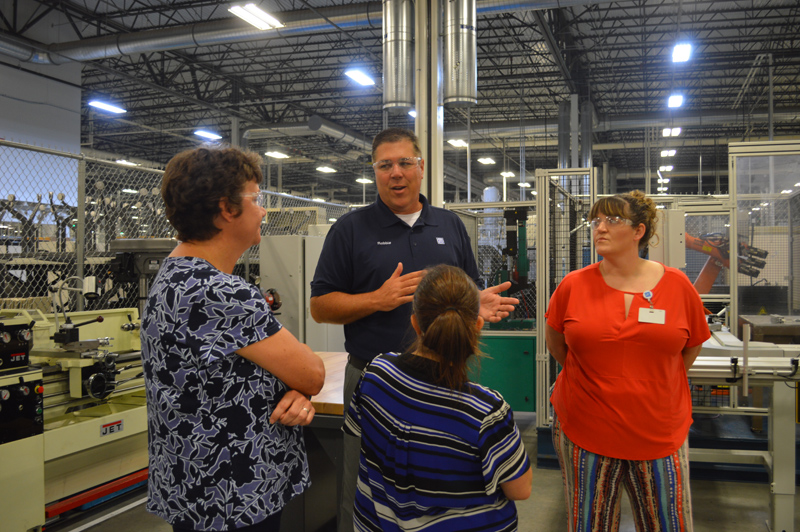 GRAY COURT, S.C., July 27, 2017 — Steel-toed boots, safety glasses and sophisticated robotics will likely resonate among this year's summer memories for a group of Laurens County educators.
Fifteen teachers from Laurens County School Districts 55 and 56 seized the opportunity to earn while they learned at ZF Transmissions in Gray Court as part of the automotive manufacturer's Teacher Link initiative.
The program is intended to strengthen relationships with the education community, prepare students for careers in manufacturing, and promote the company's apprenticeship program. The apprenticeship is a three-year program for eligible Laurens County high school graduates to work part-time at ZF while enrolled in a full-time mechatronics associates degree program at Piedmont Technical College.
"Getting to know the industry from the inside was something I was looking forward to, and being able to tell my students what to expect with the apprenticeship or graduating and coming to work here," says Katie Holley, agricultural mechanics teacher at Clinton High School. "What they're looking for and my curriculum line up perfectly."
Hiring unfolded on a first-come, first-served basis, according to Apprenticeship Supervisor Robbie Ellis. The teachers worked up to 32 hours per week on flexible schedules, and each worked closely with a mentor. Projects included reviewing and revising process control manuals and special human resources outreach.
For Laurens District 55 High School business teacher Lori Pontoon, a mother of three, the opportunity provides multiple benefits: earning extra income, gathering ideas to take to the classroom, and deepening understanding of the opportunities at home for her own children.
"When it comes to my children, I would love for them to be ZF employees," she says. "At ZF, the pathway for advancement is there before you, and you're only limited by your own ambitions… and that's an environment that I hadn't seen before."
One of her children would be great for the apprenticeship program or manufacturing employment, she adds. "He's taking an engineering class now, he likes working with his hands, he's not going to be sitting behind a desk. He's full of energy, he's intelligent, he has to be moving—I could see him doing really well in an environment like this."
As for applying her knowledge in the classroom, Pontoon and her colleagues have a host of ideas: student facility tours, visits from facility representatives, and hands-on labs among them.
"I really want to take a piece of a transmission and let kids break it down, put it back together, and read the blueprints for it and be able to collaborate and figure out what math is involved in it," says Audrey Wallace, science teacher at Hickory Tavern Middle School. "That's a pure STEM activity that maybe we could do for middle school to get them interested in what the job entails."
Special education teachers Cinda Ginn and Gerri McConnell both expressed the experience imparted upon them the importance of soft skills, communication and team work.
Donna Bolt, math teacher at Laurens District 55 High School, picked up a deeper awareness of industrial applications for probability and geometry.
"My kids are always asking, 'Where are we going to use this?'" Bolt says. "I can say to them, 'Businesses in Laurens County need you to do this, and there are jobs available.'"
Available jobs, and the demand for skilled workers to fill them, is the driving force of the Laurens County Development Corporation's recently launched Business and Education Partnership. The initiative unites a dozen Laurens County industries with the Laurens County school districts and Piedmont Technical College to work collaboratively on creative workforce development solutions.
"We've seen strong business investment in Laurens County, coupled with wage growth and low unemployment, and these are strong indicators for our community," says Laurens County Development Corporation Executive Director Jonathan A. Coleman. "Our future success relies on connecting these employers with our education community so that today's students become tomorrow's workforce."
While apprenticeships are on the rise nationally, ZF's Teacher Link is innovative in its approach because it speaks to a different audience and offers such an immersive experience to people who may not otherwise know the environment, Coleman adds.
One example is Sanders Middle School technology coach Jeffrey Whitener.
"One thing that completely stunned me was the cleanliness of the environment," reflects Whitener. "This is my first time in a manufacturing industry, and I was expecting the old school cotton mill, hot, uncomfortable. It's been a complete 180. The technology they're working with here is phenomenal."
Earnest Barksdale, Sanders Middle School business education teacher and head football coach, says that working for ZF differed greatly from his summer jobs in manufacturing before college.
"When I was working, they would just throw you into a job and you would watch everybody else and see how they do it," Barksdale says. "But today, they want to make sure you know what you're doing; they take the time to train and provide materials."
Tammy Evans, career development facilitator at Hickory Tavern Middle School, adds that the experience offers new ways to discuss career planning with her students as they select high school courses.
"There are 16 Career Clusters, and ZF covers a lot of them, in terms of becoming a South Carolina graduate—technology, manufacturing, science, planning architecture. This community covers a wide range of those clusters that we look at naturally," Evans says.
"And it really is a large community— I see half my classmates here, and I see, this is a community in which a lot of people live and work and they're doing very well."
To learn more about Workforce Development, click here.
ADD ITEM TO REPORT
As you navigate our website, you can use the "Add Page to Report" button to add any page or property to a custom report that you can print out or save.