LCDC Vice President Lynn Finley One of Select SCEDA Members to Earn Coveted Statewide Economic Developer Certification
08/31/2023
The South Carolina Economic Developers' Association (SCEDA)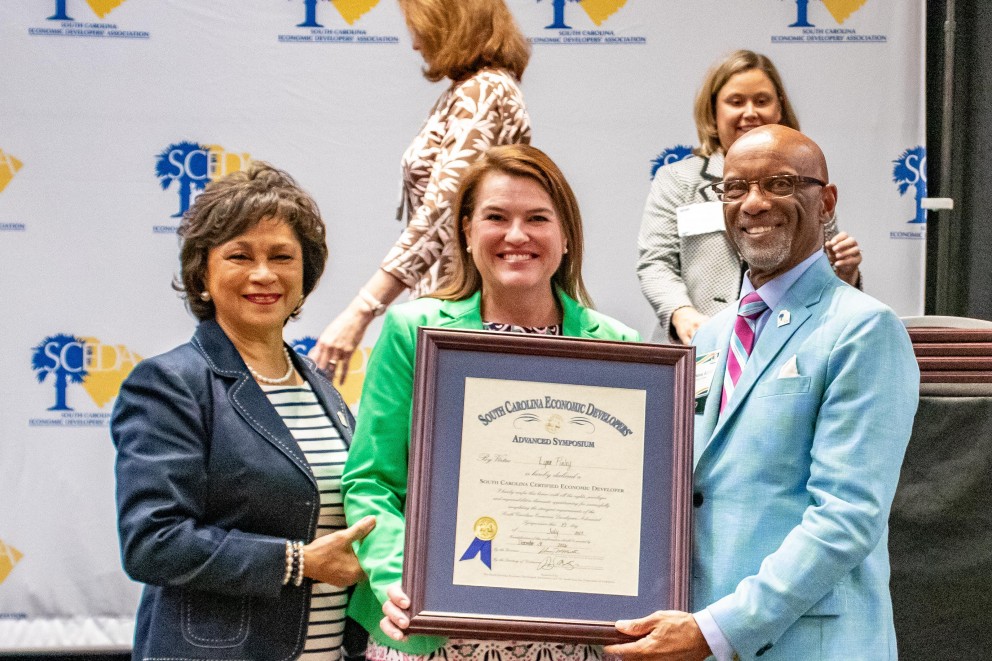 Columbia, S.C. (August 31, 2023) - The South Carolina Economic Developers' Association (SCEDA) is proud to announce nine members have recently earned credentials as South Carolina Certified Economic Developers (SCCED). The newly certified statewide economic developers were recognized on August 24 during the Midyear Members Meeting.
The nine members come from a variety of backgrounds and industries across the state:
● Kara Cannon, Director of Business Development, Edcon Inc.
● Matt Brady, Economic Development Manager, Town of Mount Pleasant
● Joe Affsprung, Global Business Development Manager, Charleston Regional Development Alliance
● Ken Moon, Executive Director, Cherokee County Development Board
● Kelci Avery, Marketing and Development Director, WesternSC
● Dolton Williams, Executive Director, Union County Development Board
● Sarah Johnson, Senior Real Estate Consultant, South Carolina Department of Commerce
● Fearn Gupton, Rural Development Manager, South Carolina Department of Commerce
● Lynn Finley, Vice President, Laurens County Development Corporation
"During their time in this rigorous and extensive program, these recipients have shown their dedication to excellence in the field of economic development," said Sandy Steele, President of the SCEDA Board of Directors. "Beginning with a competitive application process, recipients are required to complete the Advanced Symposium, a series of advanced level courses for professional economic development practitioners. The attendees learn in an interactive environment with coaching from economic development experts, consultants, and private industry representatives." "We are extremely proud of each graduate, and welcome them to our distinguished cadre of SC Certified Economic Developers."
This distinct honor is awarded to very few applicants each year. Since the program began in 2001, only 122 have received the SCCED certification.
About SCEDA
Since 1965, the S.C. Economic Developers' Association has served as the Voice of Economic Development in the Palmetto State. A professional trade association of more than 580 members, with representation from all 46 counties, SCEDA includes local and regional economic developers, as well as officials from municipal, county and state government agencies, construction and engineering firms, utility companies, attorneys, consultants, financial institutions, and higher education. To learn more, visit www.SCEDA.org.
ADD ITEM TO REPORT
As you navigate our website, you can use the "Add Page to Report" button to add any page or property to a custom report that you can print out or save.